Noun: /ˌēkwəˈlibrēəm,ˌekwəˈlibrēəm/
A state of physical balance, a calm state of mind.

Organic, Medical Grade Hemp, Processed in a GMP Facility.

Formulation Based on Millions of Data Points From Medical Cannabis Patients.
Emulsified Solution
for Greater Absorption
Faster Acting and More Consistent Than Oils or Pellets.
Research Backed,
Proven Safe
Our Ongoing Research Has Proven Safety With Zero Side Effects.
"I have been using CannaHorse Equilibrium for about a month now on my young horses. On some days they really seem to benefit, it helps one nervous four-year-old both relax and focus, we also had a successful time shipping to train off the farm one day. While I know CBD is not competition legal, I see a lot of promise in training and look forward to seeing how it could benefit older horses for recovery and starting back off of breaks."
Ema Klugman
5* Event Rider
Top Young Rider Land Rover Kentucky 2021
I used Equilibrium on a 6YO jumper in rehab who tends to be a little wild outside and it really seemed to work. I really love a few key things; ease of use, the eco-conscious packaging and design, portability, and inoffensive smell/taste. As the daughter of a vet, I really appreciate the quality of the product, and I think there is a lot of opportunity to help horses naturally.
Brinkley Schmidt
One of my clients tried your product today with her Andalusian gelding. He's typically very tense and spooky on trail rides usually jigging sideways most of the ride. The behavior is the same alone or with other horses. Today he walked out calmly with no jigging and his owner was so relaxed and happy she went for a longer ride. She was very pleased. I'm happy to report a positive outcome.
Rebecca Roach
We have a yearling on stall rest with a small fracture, he has become difficult to work with. We tried him on Equilibrium about an hour prior to a soundness jog, his demeanour was greatly improved as well as his action. I am looking forward to seeing how this product might make the rest of the process easier on him mentally and physically.
Michael Byrne
We have an 18YO mare on the farm who has been barren for the past three seasons. She's a nervous type and has also carried a lot of fluid and inflammation, which has been difficult to manage. She came up empty again in April and in a sort of Hail Mary, we decided to try her on Equilibrium in late April, after a couple of days, she was noticeably less stressed. She was bred in mid-May and our vet was quite surprised to find that her uterine inflammation had greatly reduced despite being off all of her other medication. We're a ways away from a live foal, but this is a fantastic start, there is a marked improvement in her physically and mentally. 
Larry O'Byrne
---
EQUILIBRIUM ORAL is scientifically formulated with medical-grade hemp, Equilibrium supports the mental and physical wellness of your horse with a powerful spectrum of naturally occurring phyto-cannabinoids. Formulated to create physical and mental equilibrium in your horse, Equilibrium contains cannabinoids that work synergistically to promote a therapeutic response in horses of all ages and breeds. Our unique emulsified solution allows for effective absorption and can be used for daily maintenance or for an acute response to a physically or mentally stressful situation.
Additional Info
• Easy to administer bottle and syringe
• Unlike pellets and oils that can degrade over time, our nano-emulsified product retains its stability
• Processed in a Good Manufacturing Practice (GMP) Facility
• Research-backed micronized formula for optimal absorption
Product Specs
-Organic and vegan
-Made in USA using American hemp grown specifically for medicinal use
-250mg of active CBD per unit
-3.5ml of solution per unit
-Free of THC
-Sustainable, recyclable packaging
Potential Benefits
• Reduction in the need for medications
• Relief for pain and arthritis
• Recovery from exercise and surgery  
• Enhanced joint function
• Healthier skin and coat
• Improved digestive health
Safety
Equilibrium's single oral dose was studied on eight Czech Warmbloods at various ages and weights. Initial feedback showed no signs of adverse side effects in the horses. There were no gastric side effects and blood pressure and heart rate remained within normal range.
Recommended Dosage
Equilibrium comes in easy-to-use bottle that can be administered orally via a syringe or over feed.



What Makes CannaHorse Different?
The Endocannabinoid System
The Endocannabinoid System (ECS) is a complex cell-signaling system found within all mammals and plays a regulatory role within the body and helps to reach and maintain a state of homeostasis—the biological dynamic equilibrium our bodies require to function optimally. The endocannabinoid system has been found to play a role in the regulation of the central nervous, immune, endocrine systems and metabolism among other key functions. What most don't know is that the body already produces cannabinoids (endocannabinoids) via the ECS.

Cannabinoid therapy helps stimulate the endocannabinoid system through the addition of phytocannabinoids via the cannabis plant.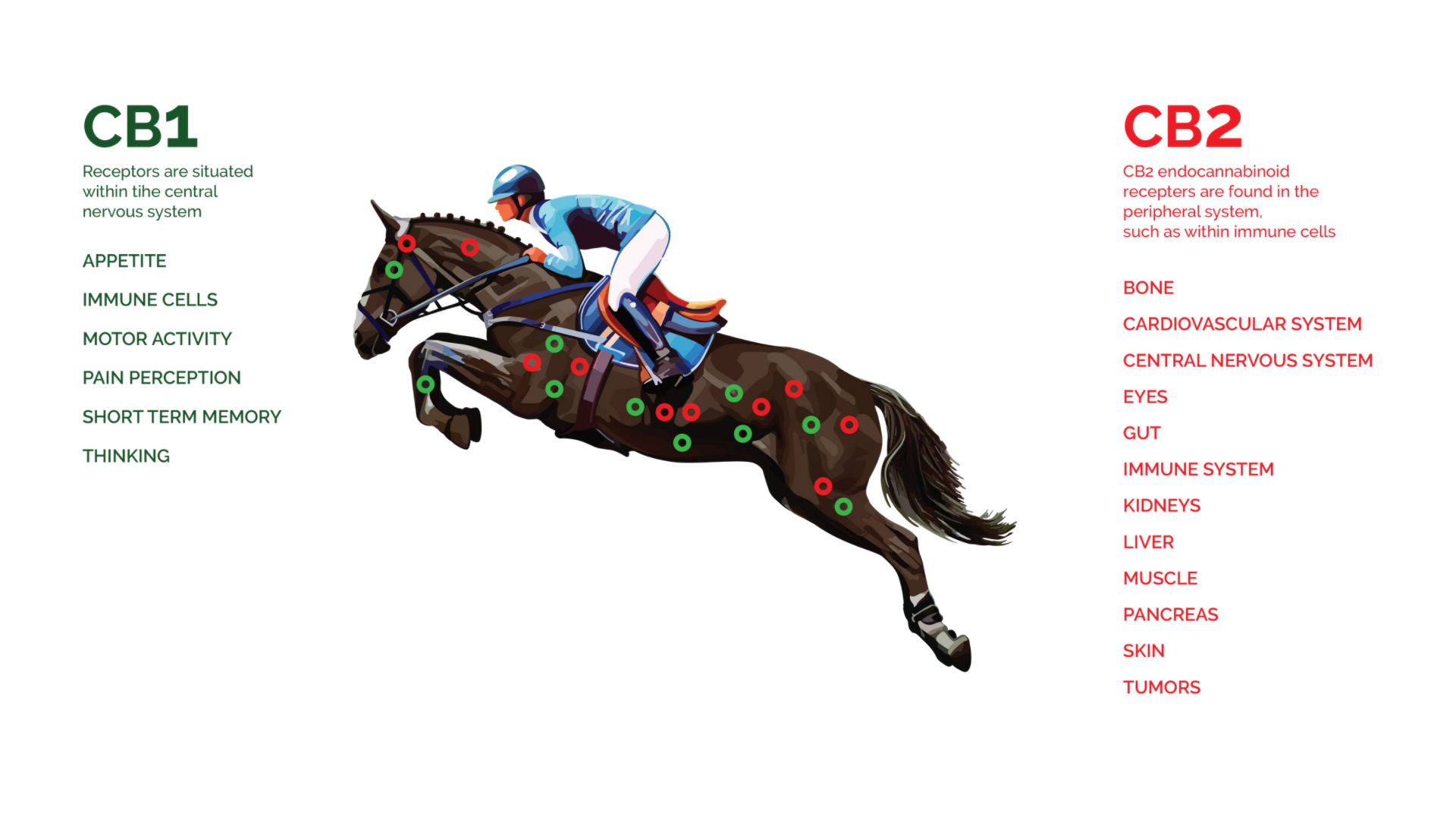 Enter your email and receive 15% off your first order.